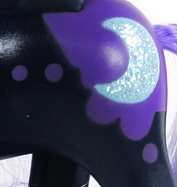 She has blue eyes and her cutie mark is a crescent moon.

Nightmare Moon
2012 - Collector Series Favorites Collection
ITEM #: 12885979 Orig. Retail: $ 39.99


Princess Luna
's evil alter ego.
Nightmare Moon was released with Lemony Gem, Rainbow Dash, Trixie Lulamoon, DJ Pon-3, Flower Wishes and Pinkie Pie in the Favorites Collection set. This set is exclusive to Toys R Us.
Product Information
NIGHTMARE MOON returns to rule in darkness! Now that NIGHTMARE MOON has returned, will the ponies ever see daylight again? Maybe if they work together, your 6 other ponies can convince your NIGHTMARE MOON figure that a balance of day and night is good for everyone. Will there be a happy ending to this story? It's up to you!
"Remember this day, little ponies, for it was your last. From this moment forth, the night will last forever!" - NIGHTMARE MOON

DISCLAIMER: This website is for informational purposes only and is intended to assist the Pony Collecting Community. Some images on this site are property of Hasbro and have been borrowed for non-profit use. Other images have been donated by various contributors. Please do not use them without permission. This site is not affiliated with Hasbro, Inc. My Little Pony, its characters, names, and their distinctive likenesses are trademarks of Hasbro, Inc. All Rights Reserved Worldwide.