2011 - Blind Bag Wave 2
ITEM #: 36632 Orig. Retail: $
~ International Exclusive ~

Cheerilee was released as a mini figure in second wave of Blind Bags. She could be found in bag #13.
The second set of blind bags were released in Europe in 2011 and have yet to be released in the US. They are either regular or transparent/glitter style.
They come in purple Ponyville bags.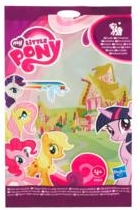 Product Information
Each bag contains 1 lucky pony with sculpted mane and tail. Pony is about 4cm tall. There are 24 different ponies in all.
The large collection of fun goody bags for all My Little Pony friends: Each bag of surprises you with a new pony, a collector's card figures and an index of all ponies. Cheerilee, Pinkie Pie and Sweetie Belle? The tension is great, because you never know which pony's in the bag. A total of 24 different ponies waiting here for you. Look out for the 3 very rare, very transparent, "crystal ponies."