2011 - Fashion Style
ITEM #: 33107 Orig. Retail: $ 12.99

Fluttershy was released as a Fashion Style pony in 2011. Fashion Style ponies are much larger than regular G4 ponies.
She came with another bunny animal friend. This bunny has a pink bow as opposed to her single release (with a yellow bow).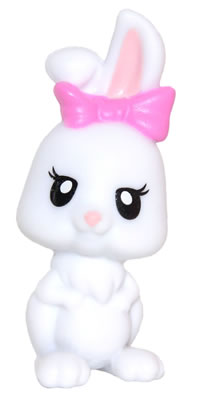 Product Information
FLUTTERSHY is a kind and gentle pony with a big heart. She likes to take care of others, especially her little animal friends!
Your FASHION STYLE FLUTTERSHY pony figure needs your help to look her very best! Comb her hair and then use the hair barrettes to give her an extra special look. Will you accessorize your pony friend with her cape, too? Put on her pretty shoes to complete her look and then add her flower basket. With her bunny friend, she's ready to go flower picking! Your pony pal will look gorgeous, but she couldn't have done it without her favorite stylist — you!
Pony figure comes with cape, 4 shoes, comb, 4 hair barrettes, flower basket and bunny figure.