2012 - Single with Luggage
ITEM #: 38484 Orig. Retail: $ 4.99


Cherry Pie was released in 2011 as a single. She came with luggage accessories and a mouse animal friend.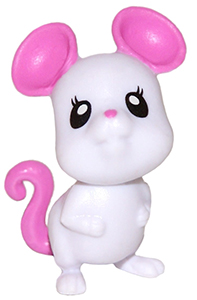 Product Information
CHERRY PIE travels to find the best ingredients for her pies. She loves to bake for her friends!
When your family goes on a trip, you need a pony friend to come along, and your CHERRY PIE pony can't wait to get on the road! Pack her suitcase and get her mouse friend and tickets ready. This pony friend comes with a special surprise—a movie you can both enjoy! Cuddle up with your CHERRY PIE pony and watch the DVD and then act out the story with your own pony figure! The DVD features "Applebuck Season," a 20+ minute full episode from the TV series starring your favorite pony friends.
Pony figure comes with suitcase, mouse, tickets, sticker sheet and DVD.