2012 - Crystal Fashion Style
ITEM #: A0640 Orig. Retail: $ 24.99

Product Information
These royal ponies shine and sparkle in all the colors of the rainbow! With 2 ponies and beautiful accessories to decorate them with, you'll have a magical, gorgeous CRYSTAL EMPIRE pony collection. Dress them up and style their hair, then mix and match the accessories to create different looks for each pony!

Pack includes 2 CRYSTAL EMPIRE pony figures: PRINCESS CADANCE and SHINING ARMOR ponies.

Includes beautiful outfits, crown and barrettes! Comb their manes and tails!
Includes 2 pony figures, dress, uniform, 4 shoes, 2 gift boxes, barrette with ribbon, flower bouquet, 2 rings, 2 barrettes, crown, comb and jewelry box.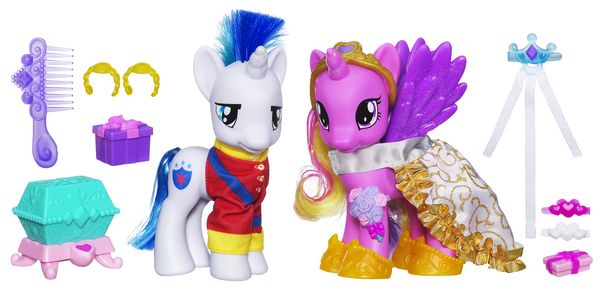 Accessory Variations
The Princess Cadance and Shining Armor set came with several accessory color variations including comb, clips, and ring colors.