2012 - Crystal Fashion Style
ITEM #: A0640 Orig. Retail: $ 24.99

Product Information
These royal ponies shine and sparkle in all the colors of the rainbow! With 2 ponies and beautiful accessories to decorate them with, you'll have a magical, gorgeous CRYSTAL EMPIRE pony collection. Dress them up and style their hair, then mix and match the accessories to create different looks for each pony!

Pack includes 2 CRYSTAL EMPIRE pony figures: PRINCESS CADANCE and SHINING ARMOR ponies.

Includes beautiful outfits, crown and barrettes! Comb their manes and tails!
Includes 2 pony figures, dress, uniform, 4 shoes, 2 gift boxes, barrette with ribbon, flower bouquet, 2 rings, 2 barrettes, crown, comb and jewelry box.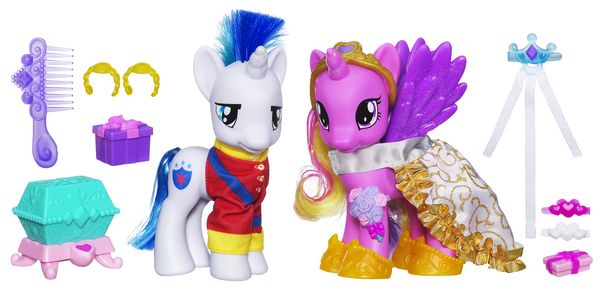 Accessory Variations
The Princess Cadance and Shining Armor set came with several accessory color variations including comb, clips, and ring colors.
2013 - Fashion Style
ITEM #: Orig. Retail: $


Product Information
Your Princess Cadance pony figure needs your help to look her very best! She comes with footwear for every occasion, but it's up to you to make her boots or shoes sparkle with the gorgeous gems included! Brush her hair and put on her dress and tiara to complete her royal look. Your pony pal will look perfect, but she couldn't have done it without her favorite fashion consultant - you!

Princess Cadance pony figure! Decorate her boots and shoes! Includes 4 gems for decoration. Comb her hair. Includes dress and tiara.

Pony figure comes with comb, tiara, boots, shoes, dress and 4 gems.