Welcome to Strawberry Reef!
Please click on the Pony Generation you are interested in...
Welcome to Strawberry Reef's My Little Pony Reference Guide... now for all generations!
I am excited to share my passion for these beautiful little ponies with you. I am a detail nut, and have been researching My Little Pony, specifically the third generation (G3) since 2006.
This site is a fan site to be used for informational purposes only. This site is in no way affiliated with Hasbro, Inc. My Little Pony, its characters, names, and their distinctive likenesses are trademarks of Hasbro, Inc. All Rights Reserved Worldwide.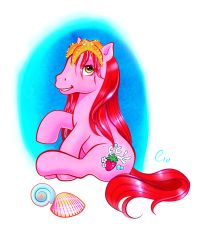 Please note there is a lot of information on this site, so there may also be some errors. Please contact me if you notice something incorrect.
Pictures on this site come from many different contributors. Please reference the Contributors page if you wish to use a picture so you can contact them for permission. You can find out an image owner by mousing-over the image. If you notice one of your images was used on this site without permission, please contact me and I will either credit you for the picture or remove it immediately if you do not wish for it to be used for this website's informational purposes.
Have a great Pony day! :)